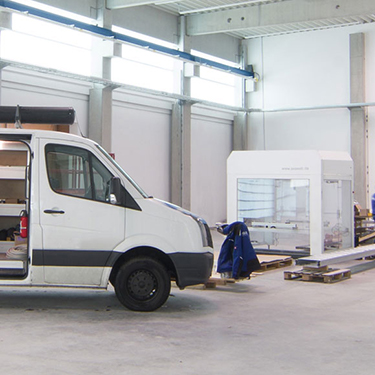 Controlling and optimizing industrial processes.
Before, during and after assembly – we're there for you.
Whether it be conveyor systems, robotic systems, or automation of your operations, our services encompass the entire added-value chain of your industrial systems.
We will counsel you, starting from the planning, engineering, and construction stages, through manufacturing and assembly at our plant, to on-site installation and startup anywhere in the world. Our comprehensive after-sales service is, of course, part of the package, as is training of your employees, along with maintenance, repairs, and process optimizations.
We guarantee prompt repairs and replacement-parts deliveries. We also provide rapid, initial, failure diagnoses via a remote-maintenance system. Working in collaboration with you, we will devise a custom-tailored list of the services you will need.
Our dedicated staff of experienced experts will be at your side during all stages of projects, assisting you in cutting your operating costs, and thereby becoming more competitive, throughout the entire life cycles of systems supplied by us.