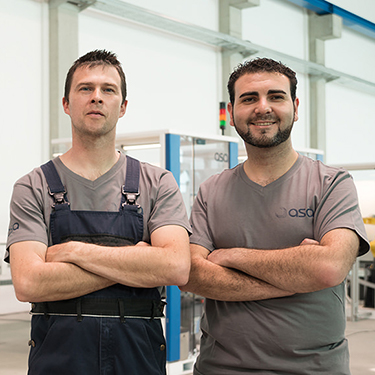 Careers at ASA
Highly motivated and dedicated - at ASA, everyone counts!
Every one of our employees forms part of the heart of ASA Automation. Their team spirit, dedication and flexibility are the keys to our joint success, where we constantly strive to promote creative thinking, personal dedication, and independent action. Curiosity and enthusiasm are important to us; qualified and satisfied employees our prime goal.
Discover what it means to work for a company internationally active in the field of factory automation. Experience how corporate growth and a collegial work atmosphere can go hand in hand.
We offer exciting professional and career opportunities, regardless of whether you are looking for an entry-level position or an engineer or manager interested in professional advancement. If you regard yourself as motivated, flexible, ambitious, and have suitable qualifications, then you are precisely the type of person we are looking for.
Send your résumé, listing your salary requirements and potential start date to jobs.de@asa-automation.com. If none of the currently open positions appeals to you, let us hear your suggestions regarding how you might contribute to the future of our organization.